Here are some of our best tips to grow as a musician to keep your audience locked in during the 2020 COVID-19 lockdown.
Stay active with your social media
As social media is the only way we are getting social interaction currently, it is vital to maintain an active social media presence. Social media is the perfect place to brand yourself as an artist and attract the audience you need. Not only that, social media allows you to interact with your fans, presenting you as a more 'down to earth' musician. Sharing posts about who you are and describing your story additionally helps build a connection with your fans. It is important to keep track of your content, a good idea would be to schedule your posts according to the times your audience are most active. Regular posts will keep your audience continuously engaged with your content. Furthermore, it is helpful to research your genre and your competitor's social media, this can inspire your ideas on what to post for yourself. 
Host your own live online concerts from home
Getting concerts as a small artist can sometimes be an issue, however as concerts and festivals are a thing of the past people are looking towards online concerts. Artists everywhere small and large have performed concerts from their own homes that can be watched by anyone, anywhere in the world. The trending hashtag #TogetherAtHome is used by most artists to show support during lockdown. Live streams on social media will be the perfect place to host them due to the mass amount of people who regularly use social media. The comment section also allows you to interact with your fans during the live stream, building a deeper connection with your fans. Streaming concerts frequently at high activity times on social media will help towards your success as a musician during lockdown. 
Promotion Services
Spotify promotion or Soundcloud promotion services can give you that boost you need to kickstart your career as a musician. Small investments like this can greatly help you in becoming self-sufficient in the thing you love most. Here at Bassline Promotions we can offer you this promotional service at low costs with exceptional results.  Bassline's specialist marketing techniques and large email lists can deliver outstanding results and even land you up 150,000 organic plays. Bass Promotions can get your music heard to the audience you deserve.
But most importantly keep creating! Tie all these methods together to maximise your chances of becoming the next up and coming artist of the 2020 lockdown. Good luck!
Making a comfortable living in the music industry, management can be difficult, even if you have years of experience as a musician. It is important that to realize the importance of working your way up, starting with entry level jobs in the music industry. Once you prove yourself there, you can only get better jobs. Do you want to know how to get into the music industry with no experience? Regardless, this article is a great place to start or set you up for your next career move. Here we give some tips and advice on how to make it in the music industry, no matter what area you are interested in or how much experience you have.
WHERE TO START
The easiest way for you to do this is getting in on an entry level position at a company and work your way up the career ladder. Kanye West didn't become an industry leading rapper overnight. It took time for him to develop skills as a producer. He had other jobs to support his passion until he was signed and turned into the successful rapper that he is today.
NETWORK AT EVERY LEVEL
He's not the only music artist to start off in a position like that before finding their fame. At first, it's all about networking. Especially if you are starting your own business. Networking is essential for everyone who wants to get into the business, including rappers, singers, or producers. The broader the network, the easier it will be to grow your business or find a job. The more people you know and have done business work will help establish some authority, ensuring that people who do not know you trust your business.
As a rapper or singer, start in your local scene. Performers need reliable, local contacts to book gigs and start building a local following. Be sure to take advantage of social media sites as well. You need to do some social media legwork to get yourself out there and noticed.
EDUCATION
Producers often need a little more than just networking. While you don't necessarily need to go to school to become a producer, this can be an incredibly effective way for you to break into the music industry. These classes will teach you how to the best studio equipment and software. Some schools have a have relationships with studio and production companies that offer internships to give students real-life experience while still attending school. If you work hard, these internships can lead to a job right out of school.
REPUTATION
As a rapper and singer, you need to start building a reputation. This can be started through networking, but you can also start working with a producer and agent to help build up a portfolio. When you become popular enough, you can lean into that success or try to carry it into a new project. A music manager or agent will be able to advise you on that kind of decision.
CONCLUSION
We all know that the music industry is highly competitive, but that is exactly why things like networking and experience are needed. These tips will help you stand out in from the other musicians just like yourself. It is important that you get every possible edge to be successful in the music business.
If you already released some music, and are now hoping that someone will hear and sign you to their label, you may be waiting a very long time. Don't leave it to chance! Bassline Promotions has the best organic music promotion on SoundCloud and Spotify! Get the audience you deserve today with our wide range of promotion packages. Find out more here!
When you are a new artist, a common pitfall I see many people make is to disregard proper promotion. It is easy to get caught up in your love for music and make track after track, and to expect to get an audience just from that. But the reality is: no matter how many great tracks you have, no matter how consistent you are, if you fail to promote then you will never find enough new people to start building an audience and fanbase. Its an ugly and somewhat sad reality I know, but it's true. You must put as much effort into promotion as you do making new music to be able to succeed in this harsh industry that music is.
This brings me onto the title of this blog: Why You Should Advertise All Of Your Music & Socials In One Place!
YOU GIVE YOUR FANS A UNIQUE AND UNFORGETTABLE USER EXPERIENCE
Have you ever heard of the saying "the customer is king" in the retail industry? Well the same applies to the music industry as well. Your audience are your customers and if their experience with you isn't up to the high standards that other artists set. Then no matter how good your music is: your audience retention is going to be terrible.
One way to give your fans an experience that will rival that of the big players in the music industry is a Smart-Link. The Smart-Link is a powerful organisational and promotional tool that enables to be able to share all your socials and music in one place. It features 5 buttons that are 100% customisable. You choose what socials to display and you choose what track or album of you to promote at the top, using the light weight intuitive Bassline Promotions music media player. The Smart-Link allows you to stand out from your completion while also giving your audience the tool to be able to save all your social links and listen to your latest music with the click of one link.
When it comes to giving you fans a great user experience: there is nothing like the Smart-Link.
WHEN YOU ARE YOUR OWN PRODUCER, ORGANISATION IS KEY
Starting up in the music industry can be hard. You must work if you want to get the results you are looking for. You must be consistent making new music, you must be consistent promoting your brand, you must engage with your fans and you have to manage all of your social medias. That's a lot for anybody to handle, that's why big artists hire people to manage all of this for them. It not because they are lazy, it's because they must focus on making quality music if they want to stay successful.
The Smart-Link is a great tool not only for your audience, but it also makes the life on an independent producer that much easier. Now you can promote all your social medias and your latest music in one place with no hassle. Just share one link and now your audience has all the information about you they need to know that your music and brand is something they want to invest their time and money into.
LAST NOTE
"The true beauty of music is that it connects people. It carriers a message, and we, the musicians, are the messengers".
A blog from Bassline Promotions – Get The Audience Your Deserve.  Let your message be heard!
Music is your passion. If it were up to you, you'd spend all your time writing and performing. But if music is also your business, you have to leave the studio and do some legwork to promote it.
So, we got our Music Liaison here at Bassline Promotions to reach out to a few musicians and ask how they market and promote their SoundCloud music. This is what they said.
1. CREATE A MARKETING PLAN
In business, it's common practice to start by stating your goal, identifying a target market, and then developing a product that fills the needs of that market to reach the goal. As a musician, this strategy is just as important for you as for any CEO.
Understand your ideal fans' personalities as well as their habits. Do they go to clubs or music festivals? Are they more low-key and prefer to hang out at a rooftop bar, or enjoy listening to music with a few friends on a couch in the back room? Do they listen to music while working, working out, relaxing, or hanging out with friends? As a musician, chances are that how you consume your music is similar to how your potential fans like theirs. The important thing is to have these questions asked and answered, so you know how to best target people when you put your music out there.
There are lots of ways to get to know your potential fans:
Attend shows by similar local artists, or look at the profiles of followers for those artists online.
If you already have a small fan base, survey your listeners to find out more about them, and ask them how they found you.
Look around on forums for people who like music like yours, and join the conversation.
Explore YouTube videos of bands in your genre, and see what people say in the comments. Take a look at what other bands are associated with you, and then see if any of them are playing in your area anytime soon. Go mingle with their fans!
Ultimately, you should be able to create what is known as a marketing persona. This is simply a template which sums up the profile of your average listener. You always want to be as detailed as possible – to the point where if you can use your research to build yourself a fictional "average fan," and give him or her a name, you're golden.
Once you know who your target market is, you can start targeting them where they are.
2. KNOW WHERE YOUR TARGET MARKET IS
This leads to the next point: Where is your target market, both online and offline? Once you know more about who your potential listeners are and their habits and demographics, you can figure out where they are looking for music.
There are tons of places to find potential fans online. For example:
SoundCloud (obviously)
Mixcloud
YouTube
8tracks
Reddit
The best part about looking online is that platforms are often social so you can not only see what your potential fans like, but also where they live, what activities they do, and how they interact with the web. Dig around for data, because the more you have, the better you can target.
Your fans may also follow tastemakers. DJs were the original tastemakers in the world of popular (and alternative) music, but more and more bloggers are taking over that role. Look around for bloggers, online DJs, and even playlist curators. For example, YouTube promo channels may function as tastemakers for your niche, as well as subreddits like https://www.reddit.com/r/GarageRock/ or https://www.reddit.com/r/DeepHouseDaily/ (there's a subreddit out there for everything).
3. GET INTO THE DATA
If you want to target people in a certain area, you go to that area and look around. When you're online, this gets much more complicated – and that's where analytics and data come in.
The easiest way to get data on SoundCloud is to go Pro. SoundCloud places upload restrictions on free accounts, and doesn't let artists access any data. That changes with Pro, as you get more upload time as well as usage and traffic data. If you can afford the $7 or $15 price, this is one of the easiest ways to gather listener data.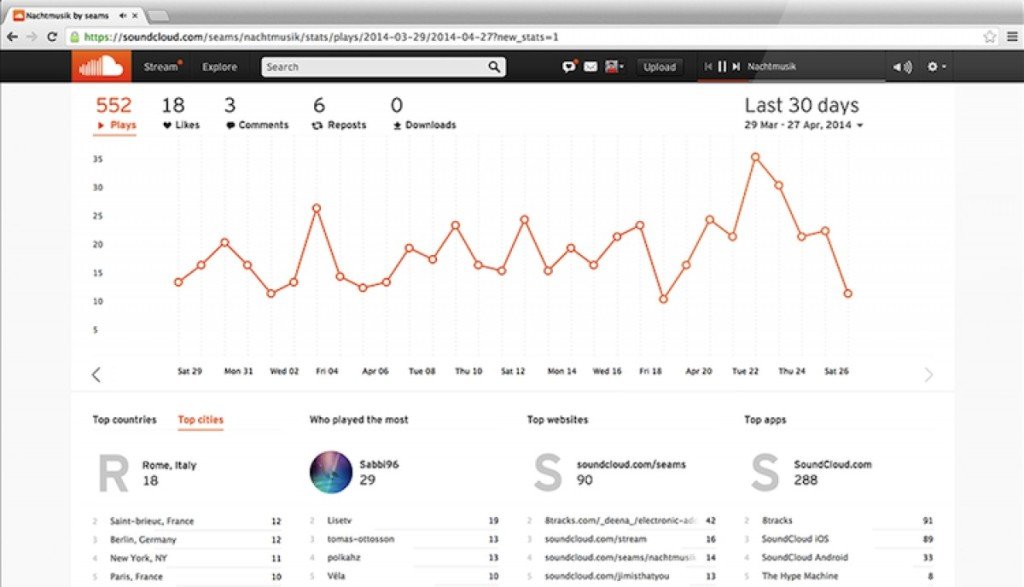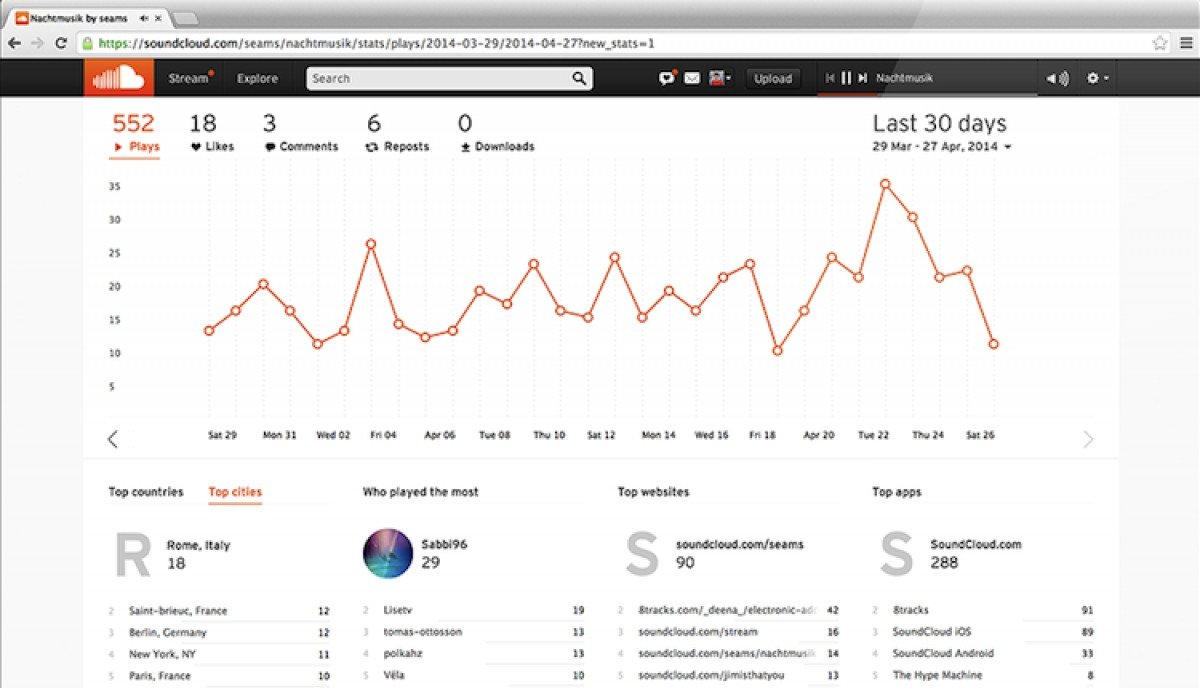 If you don't want to pay for SoundCloud pro, or if you're just looking for another way to access data, then you can always use the analytics dashboards of YouTube or Google Analytics. YouTube will only give you data about your YouTube channel, but this can be valuable because you can see what else your fans listen to, and how much of your songs they hear. YouTube can be useful for more granular song insights, but a drawback is that it's only good for YouTube. You'll only be learning about fans on YouTube, not your fans on the internet at large.
Similar to YouTube is Google Analytics. This is one of the most powerful free analytics programs out there, and if you set it up on your website, you can get endless insights from it. Google Analytics can tell everything from where your listeners are, to their age to their interests. This is very valuable data when you're planning out anything from your next release to your next tour, but the same constraints exist as with YouTube: Google Analytics will help you on your website, and no place else.
Twitter and Facebook also have their own analytics platforms, too. If you're social media savvy or have the manpower, use every social media site you can. You'll target more people, gather more data, and ultimately be more effective when planning out your next moves.
4. PROMOTE YOUR MUSIC ON SOCIAL MEDIA
Once you have prepared your promotional materials for influencers and fans, you are ready to use all that. You've set your goals, identified potential targets, and gathered data. Now it's time to take to the (social) streets.
As mentioned above, if you've got the savvy and the manpower, you should be on social media. That doesn't mean that you should be on all of them, and that doesn'tmean that you should pick one and hang out on it just because it's Facebook/Twitter/Instagram/whatever. Pick a social media platform that you're comfortable on, but where your potential fans are, too.
One of the great things about SoundCloud is how friendly it is to other social media sites. SoundCloud allows you to link your website, but also to Facebook, Twitter, Tumblr, YouTube, and Instagram. This way, you can be active on social media, while letting your SoundCloud profile be your main base.
There are countless ways to engage on social media, both on your own profiles and on others'. For example:
Use your social media to drive engagement. Ask questions, make polls asking what your next album should be titled, crack jokes, and ask for shares, retweets, and reposts. Harner some organic buzz with hashtags and behind-the-scenes pics.
Make use of free downloads, discounted merchandise, tickets to gigs, and other incentives. Offer these in exchange for email sign-ups or as rewards for remix contests.
Engage people. Hold contests, offer giveaways or meet-and-greets, or backstage passes for your next gig.
Basically, if you were your ideal fan, how would you want an artist to reach out?
Social media is a great tool for growth. You can talk directly with your fans! For every hour you spend outside going to gigs and meeting fans in person, spend an hour online to get to know people better. The more people you talk to, the more fans you'll get!
5. USE A SOUNDCLOUD MARKETING COMPANY
You've done planning, and you've started creating buzz online. Awesome! But before you blow up, you'll need to build yourself up with some numbers.
It's easy for a quality artist to get lost in the sea of any social media platform because he doesn't have a following already. This doesn't mean that his music isn't good, it just means that when people see tracks with low play counts, reposts or comments, they're more likely to judge quickly and hit Next.
Buying plays, in small increments, throughout this entire process will help. By doing this, you make sure your new traffic doesn't fall on an empty profile. Buying social proof as you promote yourself makes it look to your potential fans like you're growing organically – and will push them to follow you, too. And this doesn't just mean buy plays, followers and reposts. For the best results, give yourself a social boost across all your social media to become a true online sensation.
This is a trick that many musicians have used before, and if it's done correctly (meaning, at the same time as a bigger plan like the one we've outlined so far), it will work. This is one of the reasons we built this site – so you don't have to worry about being scammed or buying spam. You can start getting the audeience you deserve now by checking our our own Soundcloud Promotion Packages here!
6. REACH OUT TO TASTEMAKERS
Once you've got some organic buzz happening as well as a good online marketing company backing you up, you're ready to reach out to the guys with the big guns.
Remember that part about tastemakers, way up in #2? Well, it's time to bring that out now.
Practically all artists that have made it big, cannot say that they've done it alone. Across the board, there was a point between the artist making great music and being boosted by fans … and then getting picked up by someone. That "someone" is a tastemaker, whether it's a producer who used a track in a sample, or a radio DJ, a blogger, a curator on Reddit, a YouTuber, or an A&R. There's no end to tastemakers, either online or off.
Don't think that tastemakers will just find you – that's rarely the case. In fact, that's one of the reasons that artists have managers. You need to find them:
Do your research. Who are they?
Do they play music like yours?
Does your music appeal to their listeners?
Can you offer incentives, like tickets to a gig?
Do you have a press kit ready, so you can send over your logo?
Once they pick up on your name and head to your SoundCloud to check you out, they'll see people talking on social media, your music, and a growing fan base.
7. WORK SOUNDCLOUD SOME MORE
It all comes full circle. Your online music presence starts and ends with SoundCloud, and just like you can't neglect your presence elsewhere, you can't neglect your SoundCloud. Once you've found your niche and are starting to grow, it's time to reach out. SoundCloud is the best way to do that.
Follow others. It can be another artist whose music you like, or it can be a fan who might love a follow back. Following others can be a great way to expand your network, even though it's slow. Who knows, you might even find another artist who's interested in collaborating down the road!
Leave comments. That does not mean spam! SoundCloud has an awesome comments feature, and gives you an opportunity to jump into conversations with other artists and potential fans. Use this feature to get people to your page – but be careful not to just hop in, insert a link, and leave. That will backfire.
Join groups. Try to join groups that are either geographically focused or genre-based. If you are a musician in Portland, Oregon, then join groups like "Portland, Oregon," or "Portland Music." If you are an electronic musician, join groups like "Electronic Music World." This can be another great way to meet not just potential fans, but other artists, too.
These days, getting your music on streaming sites is the most important thing you can do for your career. Most people look for music on sites like Apple Music or Spotify, making these the best places for artists to get discovered. Because they are the two biggest names in music, knowing the best way to get music on Spotify and Apple Music is pivotal.
This article will tell you how to get your music on every streaming site and the what to do next.
DISTRIBUTION
You need to find a distributor. These are companies that will help you get your music on streaming site. This is the absolute easiest option and does not need to break the bank. All you need it pay and give them the song file. Just be sure you find a reputable company and you'll be taken care of. We have a list of the best distributors we like. Distributors like these often will be able to get your song on several streaming sites. You will get to pick where your song goes.
WHAT COMES NEXT
Once your get your songs on these streaming sites, you have to get people listening to them. On Spotify, you can create your own playlist for your songs. Playlists are an easy thing to share and get people to listen to. The trick is including other artist music too. You have find that sweet ratio of your songs to other artist's songs. It can be tempting to just put all of your music in there, but you will get better results by peppering your songs in with others that your fans may like.
You also have the option of getting featured on other playlists, which can be a bit more complicated. This will require you to seek out social media influences (or others similarly prominent industry people) to get them to put you on their playlist. This method takes more work, but it is worth it if they put your music up.
Bassline Promotion offers this kind of playlist promotion! Check out our organic Spotify promotion.
BE READY FOR YOUR FANS
Before you do that, you need to make sure that you have a professional look for your Spotify and Apple Music accounts. You should have your accounts verified, or influences and curators will not even consider you. To do this, simply verify your Spotify account and claim your artist profile on Apple Music. Your website, social media accounts, and other things need to be flawless. You should also give yourself a lot of time for this process and get some feedback from friends and trusted collaborators. It can take a bit of time and effort to get this done well, but it is very much worth it.
TO WRAP IT UP
Streaming sites are the best way to get your music listened to, especially as you are just starting out. To get noticed, you need your music up on these streaming sites to maximize your visibility and availability. These tips are a great start to accomplishing these goals and building a following.
You are here reading this because you want to know how to boost Spotify plays. Spotify artist promotion is a useful tool for musicians that are trying to break through in this highly competitive field. This means that you need to know all of the Spotify artist promotions that you have access to in order to maximize your success on this music streaming service. By reading on, you will learn all about how to legitimately boost your plays so that you can find success on Spotify.
BASSLINE PROMOTION'S ORGANIC SPOTIFY PROMOTION
We've scoured the internet for good services that do not breach the Spotify TOS and offer good, organic promotion for your music. The easiest way to do that is to be put into playlists, email lists, DJ groups, and broadcast on popular social media channels.
These services charge a nominal fee, but if you truly believe your music is good, it's worth the fee as you should gain back your money from the royalties anyway!
This first one below is the premium service! Your song is put into popular, genre specific playlists, email lists, blogs, and social media.
SPOTIFY EDM, DUBSTEP, POP, ROCK PROMOTION
They can put your track in several playlists. In this way, you start having more listeners on your Spotify releases.
Playlist promotion works exponentially. The bigger the campaign, the more Spotify's algorithm will generate additional streams through Discover Weekly & Release Radar.
HIP-HOP & RAP PROMOTION (Spotify Playlist & Group Placements)
With a large list of genre specific music lovers, pages, and blogs, this service can really help your music get the right exposure. You can expect real organic Spotify music promotion. The service is quick, efficient, and professional.
BASSLINE PROMOTIONS
This gig enables  your songs to be included on either of our growing playlists, with the song remaining on there for as long the package you purchase states. Once the paid period is over the songs are removed from the playlist, however we do offer a subscription service that allows you to stay on the playlist and be ran through our marketing scheme for as long as you stay a partner.
Depending on the promotion that you are looking for you can chose between a number of packages that we have developed. Each package we offer has been carefully constructed to give you as an artist a good choice so that you can pick the one that will work best for you. We have a Standard Package, a Premium Package and also a Subscription Package. You can see what they offer by clicking the package links or by visting our Spotify Promotion page here.
CONCLUSION
Getting legitimate boost plays for your music in Spotify will make a big difference because this is how you get your royalties. Otherwise it will seem off to Spotify and it could have negative consequences to your account. By boosting your plays naturally, you will get a lot of promotion that is essential for getting discovered and building a much larger fan base.
It's no secret that labels, A&R's, and blogs consider how popular an artist is for features and deals. However, many artists have the talent, but what they lack is the marketing knowledge on spreading their music. Social media can (literally) make a star out of an artist overnight, but that's not the focus of this post.
The focus is having a PLAN of using social media on a weekly basis to gradually grow your music career. This way, there's no more hoping and praying that you'll get picked up by a label someday because you'll have a music business that doesn't depend on a "yes" from somebody "important".
Here's 5 tools tools you can use to grow and sustain your music career through social media.
Meetedgar.com is a Twitter and Facebook scheduling tool.
In a nutshell, you pre-write all your posts and put them in categories (blog posts, inspirational stuff, funny, promotional, etc.), then schedule what time of the day you want each post category to go out.
So instead of manually tweeting or posting on Facebook all day, you set this up ONE time and you're set for life.
We used to spend hours every week figuring out which posts I should send out for the day, but now everything is plugged into Edgar and I have much more free time to grow other areas of my music business.
This one costs $49/month for 10 accounts and $99 for 25 accounts, but if it's making you more money than you're spending… well you know the rest 😉
Email is STILL just as important (if not more) than social media. You should be using email in conjunction with social media every week.
We use MailChimp.com to automate my email task and send out articles for my newsletter (which is how many of you are reading this now).
I've heard a couple artists say this sounds impersonal, but I believe they're misguided.
There is literally no possible way I could maintain an email list of thousands and thousands of people without automation. It would be nice if I could, but I'm pretty sure I'd have special powers if I did.
The goal of your email list is not to bombard everyone with your music, but send listeners cool things you're doing on tour, or a special preview of your songs, or an awesome story of how you first fell in love with music.
Email is still king when it comes to connecting with your fans in our opinion.
Twittimer.com can also be seen as a Twitter scheduling tool, but I like to think of it as a bulk poster.
If you have multiple Twitter accounts this is especially useful.
This one is free, but doesn't have the same features meetedgar.com does. However, say you want to send a tweet from 5 Twitter accounts you have at the same time, this makes it easy to do that.
Buzzsumo.com is a content curator. In short, it congregates the most popular articles on the internet into one place.
This is useful for artists who have a blog or want to look for new blogs to borrow ideas from or submit music to.
If you're more advanced in your music business, then you NEED to be looking at this site for SEO purposes. You can see which articles are ranking the highest with certain keywords and curate an article for your site that relates to them.
Google Analytics is tracking tool to see how many and where your site visitors are coming from.
For instance, I can see if my visitors are coming from social media, email, Google search, referrals, and direct traffic. If you have a website, you NEED Google Analytics. You need to know which traffic sources are working the best so you can put more time and investment into them.
Personally, my Google Analytics tab is always open on my browser. If I see one of my sites is low on traffic I can send out a tweet or Facebook post and pick things up again.
Are you new to the music business? Are you a seasoned professional that wants to take your career to the next level? No matter who you are, it's important to know the fundamentals of the music industry if you want to succeed. The goal of this article is to help you, whether you are an artist or producer, grow your skills and be as successful as possible with your art. Read on to learn everything that you need to know about the music business and industry.
CUT THROUGH THE COMPETITION
As we all know, the music industry is highly competitive. Just because you know a lot about music or have incredible talent doesn't automatically mean that you are going to be successful. There are many other aspects of the business such as a brand development, marketing, and networking.
You certainly need to be be passionate and an expert musician, but it will be business savvy that will carry you to stardom. Once you get some some fans, you will need working relationships with retailers, distributors, and record labels. You can read books and a blogs about it how that works, but at a certain point, you just need to give it a try and learn as you go (another option is hiring a manager or agent to help you through the business of getting famous, but it'll be tough finding someone willing to support an artist without fans).
The ultimate goal is to access these three common revenue streams for a musician: touring, publishing, and branding. That's how you will make a career in today's music industry.
BE A BUSINESS
When you decide you want to be a musician, you become a business. You and your music are the product. Social networking is one of the best ways for independent artists to spread word about their music, but the problem is that this won't be enough on its own to help you achieve your goals.
Social media can be an effective tool to market yourself as an independent musician, but this is just part of the plan you need to have in place in order to be successful. Create a brand for yourself and market this brand as you would in any other business.
CONSISTENCY IS KEY
You are not going to be famous overnight. You are not going to become rich overnight. If you are going to be successful in the music business and industry, you are going to have to put in a lot of hard work. It doesn't matter if you are going to be a producer or a singer or anything in between. Once you decide the direction you want to head, get to work. It takes consistent, high-quality content to develop a following. You need to put in the time and the effort to know the ins and outs of this business to have the best shot at achieving success.
Whether you have 3 or 30,000 fans, an organic promotion campaign could be the best next step in your career. Bassline Promotion offers the best organic promotion on SoundCloud with a Spotify promotion packages coming soon.
Promote Soundcloud Your Quickly and Effectively
If you're a small independent music producer on Soundcloud you have probably already experienced just how difficult it is to find an audience on this competitive site. With hundred of thousands of people who are also looking for success you really have to be unique to start growing yourself. All of this being said though, there are options you have to help you stand out over the rest. Using a number of promotion techniques you can maximise your chances of getting found and keeping your listeners. Making a killer track is something, but creating a brand and promoting yourself will take you to the next level and give you the success that you deserve.
Soundcloud is a really great platform to use if you are serious about starting your music career. Many music producers have found real success through using Soundcloud with names like Post Malone and Lil Pump coming to mind. One thing you can be sure of though is that they both used these proven techniques I'm about to share with you right now.  As well as make lit music.
1). Make You Profile Look Professional And Unique
First impressions really do mean everything in a world where people are so stretched for time. That is why my first tip for getting yourself ready for promotion is to make your profile look professional and unique. Having a profile that stands out means that any user that is browsing Soundcloud can be instantly drawn and intrigued when they visit your profile. This interest you have just captured by setting up your profile is now going to lead to people checking out your songs.
So how can you improve your profile to make it look professional?
Make a unique profile picture that follows a visual style that represents you:
You can do this by learning how to use photoshop or if you have some money to spare go on www.fiverr.com and hire a freelancer to make one for you. You can find some really cheap and creative freelancers on there.
Make a banner that follows your visual style that you have decided on with you profile picture:
Once again you can do this by learning to use photoshop, or go on www.fiverr.com again (maybe even use the same freelancer) to create a banner that fits your style.
Setting up your bio:
For this you want to add all of your social links that you have created for your Souncloud. This makes you seem more professional and shows people that you really have a passion for making music. This all helps create an image in the users mind that you are serious about what you are doing.
Track artwork:
Having unique artwork really makes you stand out which draws people in to listen to your songs. A good piece of track artwork in my mind is one that the user can really interpret in anyway. This adds an element of mystery and means people spend some time listening and understanding what you are about.
2). Get Your Profile Out On Multiple Social Medias
Having related social media accounts for you Soundcloud is a must when it comes to promotion. Not only does it help with your Soundcloud ranking on google but having your profile spread across accounts such as Twitter, Facebook, and Snapchat etc not only helps create an audience but also increases your potential reach by a thousand times. This is because Soundcloud is a rather small website compared to tech giants like Facebook and Twitter and you may be able to find users on these websites that are really passionate about music but have yet to discover Soundcloud. However if you don't feel like managing a bunch of social media accounts which to be honest can be a bit stressful at times. An easy way to get around this is use a premium Soundcloud promotion service such as www.basspromotions.com which runs social media campaigns on Facebook and Instagram and other platforms to get their clients Soundcloud out their to as many people as possible.
3). Use A Soundcloud Promotion Service
This point is perhaps the most important. This is because while creating a unique profile and spreading your Soundcloud on other social medias is really important for creating a brand for yourself they don't contribute massively to helping gain an audience.
If you really want to promote your Soundcloud so that you can start building an audience for yourself a really good Soundcloud promotion service is www.basspromotions.com. This service unlike many others in the Soundcloud promotion business as they actually offer real organic plays and traffic to your profile and tracks. Many other promotion sites tend to use view bots to give you traffic which can really harm your profile and may actually result in your Soundcloud account missing out on real traffic as Soundcloud tends to punish bot use.
Bassline Promotions is the only service that offers real promotion to its clients through using targeted email list which sends to people that are passionate about music. As well as that they run their clients tracks and profiles through social media campaigns on Facebook and other websites. This all result in real traffic that has been proven to bring in users that actually have an interest in your music.
4). Be Consistent With Your Uploads
Being consistent in your uploads kind of goes hand in hand with using a Soundcloud promotion service such as www.basspromotions.com. This is because its all well and good bringing in passionate music listeners through promotion, but if you don't stay consistent with your track uploads then people are eventually going to forget about you and maybe even un-follow.
To be consistent it requires you to be dedicated. Dedication is perhaps one of the most defining reasons as to how people become successful on Soundcloud and for that matter: anything in life. To do this I recommend setting a simple target at the beginning such as 1 track a month or maybe even 2. The more the better, however don't go too over the top as quality over quantity definitely trumps the opposite.
5). Be An Active Member Of The Community
Being an active member in the Soundcloud community not only helps get your name out there through the comments you leave on peoples tracks. But it also serves as a kind of research on the competition which can be really helpful in seeing what works and what doesn't. It also shows your followers that you are passionate about music and helps reassure them that your brand is something that they can be proud to be invested in. This will all really show in the music you create.
Conclusion
There are many ways you can create a unique brand and get your name out their. From staying consistent and being and active member in the community to using a premium Soundcloud promotion service such as the one Bassline Promotions offers on www.basspromotions.com. If you follow each one of the steps I have written above I'm positive you can start to grow and find the audience that you deserve. Just remember hard work always pays off, just be consistent and effective in how you conduct it.